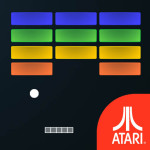 Welcome to the classic arcade game Atari Breakout! The game is based on the popular Atari game Breakout. Your objective is to destroy blocks using balls. Strike the ball against the colored blocks until none remain, while preventing the ball from passing your paddle. Acquire power-ups and extra lives in order to get high scores and dominate the leaderboards. Play now!
Entertainment more games similar to Idle Breakout.
Game Mode
1 Ball: A standard breakout in which you must smash a ball through blocks while attempting not to lose the ball.
2 Balls: Enables simultaneous control of two paddles.
Cavity: Two paddles, but only one ball at first. The walls contain more balls that can be unleashed.
Progressive: A new row of blocks is introduced every few seconds. Attempt to remove all the blocks as quickly as possible before they reach the bottom.
How to play
Use LEFT MOUSE to toss the ball and move the pedal.