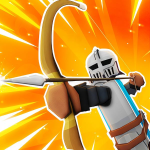 Fast-paced and exciting, Narrow One is a 3D multiplayer archery game. As a player, your objective is to use bows and arrows to battle other players from around the globe and protect your castle from intruders. With the support of your allies, you can capture the flag and end the war on the winning side. You have only a bow and a few arrows at your disposal, so you'd better learn to shoot accurately and move quickly.
Experience the sensation of raising the bow and shooting. Win each flag in 14 distinct, difficult levels. With the archer's weaponry, use your best aiming abilities to accurately shoot down foes on the battlefield. Respond swiftly to unlock numerous additional maps with varying obstacles. Are you ready to play Narrow One?
Feature
Medieval-themed archery.
The game has 14 different levels for you to play.
Modify your character's appearance in more ways.
Several weapons and skins have upgradeable stats.
How to play
WASD or arrow keys - Move
Space - Jump
Left mouse button - Shoot