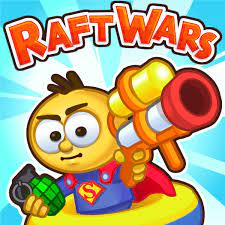 Raft Wars is a well-known shooting game that takes place on an island full of wind, sand, and pirates. Young Simon discovers treasure chests in the background, and the pirates are well aware of this. Your mission is to aid Simon in his fight against them and protect the treasure. Using tennis balls or other items you've purchased, defeat each opponent. Once you've defeated the first wave of pirates, you can advance to the next level, where you'll face new foes such as Vikings.
Fight wisely and upgrade your tools and rafts on a regular basis to help you protect your treasure. Examine your opponent's tactics and take appropriate action to defeat them. To earn a lot of points, make powerful and decisive hits. It's time to start playing! If you like shooting games, you can also refer to Gun Mayhem Redux and Battledudes.
Feature
Beautiful graphics and comic-style characters are featured.
There are over 15 different weapons.
Crush your opponents and progress through unique maps.
More than 30 amusing characters.
In challenging turn-based PvE or PvP battles, take on evil pirates, wandering bandits, and Raft warriors.
How to play
Using YOUR MOUSE, aim and fire at the pirates one by one. Choose upgrades to increase your chances of passing each level.