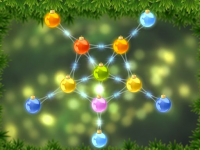 Atomic Puzzle Xmas is a puzzle game that has atom puzzle sets decorated in a Christmas theme. All you have to do to get through each level is match up the atoms of the same color. The gameplay is straightforward, but you must pay close attention to your surroundings before matching atoms. Good luck.
How to play
Use mouse to select combination of atoms.

The color of the atom you click on does not matter.

Each combination must contain the same coloured atoms.

Only one atom can be left unpaired in each combination.