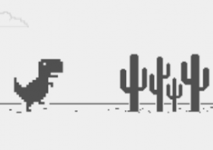 Dinosaur Game is the famous and legendary 2D arcade game in which you have to assist the dinosaur T-Rex across the vast desert. Join now and have fun!
History of Dinosaur Game
If you've ever used Google Chrome, you've probably encountered its iconic offline mini-game. The moment your internet connection drops, a tiny gray dinosaur pops up on screen. Tap the spacebar, and your prehistoric adventure begins! Guide the T-rex as he sprints across a pixelated desert landscape, deftly dodging an endless array of hazards like prickly cacti and buzzards. Time each jump perfectly to avoid crashes that will send you back to the start.
It may seem like a simple game to play when offline, but Dino Game (another popular name for Dinosaur Game) has won over countless users with its straightforward and addictive gameplay. There are millions of people all over the world who play Chrome Dino everyday. Playing this game does not require any prior experience, particular gear, or setup. While it presents a straightforward gameplay experience, attaining a remarkable high score within it proves to be a challenging endeavor.
Let's meet Lonely T-Rex, the formidable tyrannosaurus that stars in this gaming adventure. Set against a striking black and white backdrop, the visuals of the game captivate the senses. Your task is to guide Lonely T-Rex in navigating over treacherous cacti and agile pterodactyls. Embrace the challenge presented by these dynamic obstacles as they form the crux of the journey that our valiant dinosaur must triumph over.
Dinosaur Game is compatible with all devices, which makes it even more popular. This T-rex game is simple to play, but it's difficult to keep a decent score. It also has all the fun features you would expect from an entertaining game.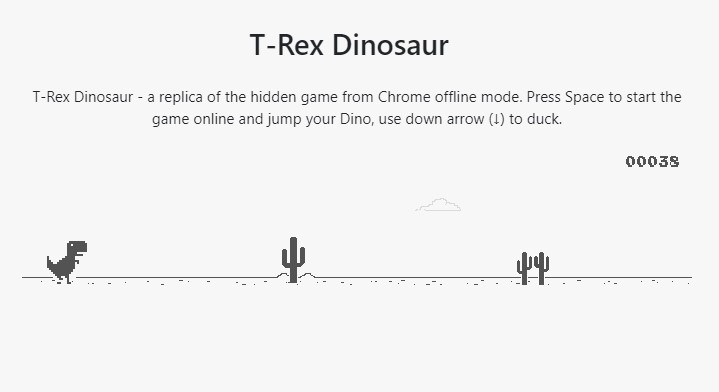 Gaming Tips
One of the most effective ways for dinosaurs to overcome challenges is by leaping in advance. This will make it possible for the dinosaur to jump over the cactus instead of waiting for it to run into it.
Although you can leap or jump over land animals, the dinosaur must crouch in order to avoid flying overhead. Crouching is a great way for the dinosaur to avoid flying reptiles.
Imagine that the dinosaur is still there, but the landscape and the obstacles are shifting around it. This grants you greater control over the game and paves the way for you to participate in it.
How to play
To begin the game, you must either tap the spacebar on your keyboard or the dino keyboard, depending on whether you are using a computer or a smartphone.
Spacebar or ↑ key to start Dinosaur Game.
Press and hold ↑ or SPACEBAR to make the dinosaur jump higher.
↓ key to avoid the falcon.
ALT or F11 key to pause the game.
In the event that the T-Rex runs into an obstacle, such as a cactus, the game will be terminated immediately. If this happens, press the spacebar or the ↑ key on your PC and tap T-Rex to start over.
Some questions about No Internet Game
Dinosaur Game, also referred to as the No Internet Game, Dino Game, T-Rex Run, Dino Run, Google Dino Game, No Wifi Game, and No Internet Connection Game, is an Easter egg game that appears when a user tries to load a webpage but is not connected to the internet.
Who is eligible to participate in this game?
Anyone who has access to a computer or a mobile phone can participate in the game. To participate in the game, all you have to do is go to Dinosaur Game and help the Lonely T-Rex dinosaur navigate its way through the various challenges.
What skills do you need to play the Dinosaur Game?
It is necessary to have good hand-eye coordination in order to play the Dinosaur Game and achieve high scores. This will make it possible for you to jump and dive over obstacles without ending the game too soon.
When does Dinosaur Game end?
If the Lonely T-Rex encounters an obstacle that is a cactus or a plant known as a pterodactyl, they will collide with the obstacle. And the game is over!
Who has ever won this game?
The fact is that this game is simple to control and play, but to win is extremely difficult. Very few people can do this. Can you be the next winner?
Is there another version of Dinosaur Game available?
You can choose from a variety of versions of this game, including Joker T-Rex Dinosaur Game, Dark T-Rex Dinosaur Game and Batman T-Rex Dinosaur Game,.... These are all special versions!
Best
Dinosaur Games
We have compiled a large number of well-known games, such as Snake and Little Alchemy, Smash Karts, Minesweeper, Tic Tac Toe..., and if you enjoy playing games about dinosaurs, you can check out Colored T-Rex Dinosaur Game, Mario T-Rex Dinosaur Game, Chrome Dino Run, Santa T Rex Run, etc.
We really hope that your time spent here is enjoyable. Have some fun with some of Google Games and enjoy!