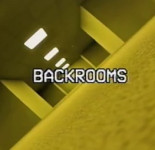 This is Backrooms, a horror game in which anyone can participate. The game takes place in a never-ending series of similar cubicles. You're free to roam around different areas and try to outrun the creatures. Explore the maze of twisting halls and eerie rooms accompanied by eerie noises. You have a first-person view of the action, but you should be prepared for the sudden appearance of terrifying monsters. You will be caught off guard by the sudden appearance of threats and creatures.
Focus on the little details and examine them carefully; you may hold the key to finishing the job. Finding an exit from the Backrooms is the point of the game. To make it through the maze, players will need to use every trick in the book. Look around each room very closely!
Three different levels are available in this game:
Level 0: The Original
Level 1: Level with industrial architecture
Level 2: Dark level with long service tunnels.
Hope you enjoy playing Backrooms game! However, you can also play other horror games like Amanda The Adventurer.
How to play
Move around the rooms using the WASD keys. Players can also jump and swipe down.