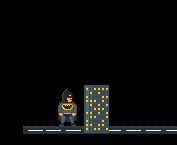 Batman T-Rex Dinosaur Game - a replica of the hidden game from Chrome offline mode with Batman graphics. In order to make it to the finish line, you are going to have to run, jump, and avoid obstacles.
The heroic task of saving the world is assigned to Batman. How exactly can you assist him in achieving his objective? There is no limit to the ways in which you can achieve this goal.
How to play
The controls are the same, press up or space to jump and down.