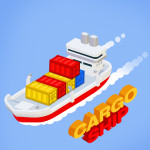 Cargo Ship lets you control a cargo ship that travels through different locations. Transform yourself into a train driver to begin your journey around the globe. You can start trading valuable items. For example, you can exchange valuable containers for coins. Open up new business opportunities.
As your business grows, you will be able to transport larger shipments. You can also trade other products and oil tanks. You will earn coins for successfully unloading containers. These coins can be used to upgrade your ship or unlock new areas. Upgrade your ship to continue your journey! You can also play games similar to Butcher Warehouse.
How to play
Use mouse and arrows to play.