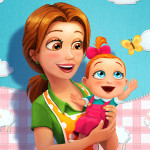 Enjoy Delicious: Emily's New Beginning and assist Emily with restaurant management. There are numerous diners awaiting service. Complete the menus rapidly and serve them as quickly as possible. Customer satisfaction and business model expansion.
Diversify the menu to compete with other dining establishments. Don't forget to go to the cashier to take payment after you have served the customer's order. You can prepare hamburgers, apple pie, and ice cream by successively preparing the menus. You can also enjoy additional Emilys Home Sweet Home!
Feature
The game features almost 60 unique game levels.
There are six restaurant places that must be unlocked.
The game supports a wide variety of languages.
Menu diversity.
How to play