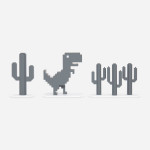 Welcome to Dino Jump, a game based on the popular Dino Game. You can undertake quests and run indefinitely! Explore the game's new graphics and features. With familiar vintage pixel visuals and new obstacles, you must strive to overcome them without difficulty. Navigate your dinosaur by leaping over various shrubs. If you avoid Pterodactyl, you may encounter diverse populations of species.
Laugh at the T-Rex's stumbles when it comes into contact with an obstruction. You will experience wonderful, peaceful moments while spending time with Dino Jump. In addition, shield, Double Jump, and Super Jump can be obtained to conduct even more powerful and extended jumps. That can help you go a long way! This game, inspired by Dinosaur Game, cannot be overlooked.
How to play
Use space bar, up arrow key, or left mouse button to jump or fly. Hold button down to glide while flying.