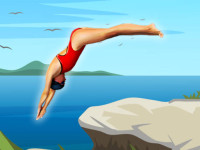 Dive Masters is a simulator of the sport of diving perform leaps and pursue a career as an athlete. Then, you will alter your movement to jump while standing on the ledge. Jump in order to avoid falling back carelessly or missing the water when jumping directly into it. Simply use the mouse and customize the athlete to complete the leaps correctly and professionally. The difficulty increases as the player climbs higher and collects more coins.
Try to collect as many stars as possible throughout the game's 12 stages. Each jump is an opportunity to gain experience. Do your finest pike jumps! In addition, you can play additional games similar to Basketball Challenge.
How to play
Click and hold the left mouse button until you discover the optimal position and direction for free fall. By letting go of the left mouse button, you can begin your dive technique.