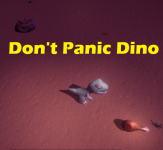 In Don't Panic Dino, it is the end of the world, and there is only one lone dinosaur left surviving. However, it is not an easy task for him to stay alive, since the barrage of meteors makes it extremely difficult to survive! Help the dinosaur avoid the meteor shower for as long as you can, and don't forget to feed him meat to calm him down!
Don't Panic Dino is a game with simple controls and well-made 3D graphics. The goal of the game is also very simple: try your best to keep the dinosaur alive for as long as you can. Fortunately, when he is hit by the meteor, he won't be taken down immediately. Instead, he will get very scared and start running randomly! Help him calm down with a piece of meat and continue your run for survival!
Related Games
If you're interested in more diverse games, check out the following list. Have fun and enjoy the experience!
How to play
Navigate the dinosaur by clicking on the screen.
Press the spacebar to feed the dinosaur meat to calm him down.