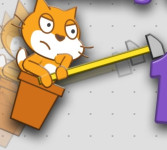 Are you up for the Getting Over It climbing challenge? This is a hard and enjoyable climbing game. Your aim is to scale the mountain as high as possible. You will transform into a cat, with your legs in a potted plant and a hammer in your hands. Make a force with the hammer in your hand to propel you up and over the barriers. The hammer will launch you and the cauldron into the air.
See how far you can push yourself! The obstacles are coloured blocks or huge fruits. Let's learn how to use a hammer to the best of our abilities. Controlling the force of the hammer will be tough at first, but once you understand the law, you can progress. Let's get started! Furthermore, you can play more Bloo Kid.
Feature
A fun game that defies physics principles.
Beautiful and inventive graphics.
Difficult hurdles.
To finish the objective, learn how to use the hammer.
How to play