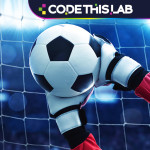 Welcome to GoalkeeperChallenge, an entertaining soccer game where you are transformed into a goalkeeper. The goal of this game is to rack up points and triumph with your arrows. Master the ball and kick it with precision into the opposing team's net. You must also guard your goal from being scored on by the opposition. Keep your eye on the ball and be prepared to take action at a moment's notice.
There are a total of 10 stages to complete in the game. The more levels you play, the harder the game gets. Your challenge is to grab the ball after your opponent has kicked it five different ways. If you can catch the ball, you'll get a point. A high catch rate is a surefire way to success and advancement. Catch the ball in time by keeping an eye on where it's going. There are comparable soccer games to Retro Goal.
How to play
Use your mouse to click and control the goalkeeper's hand.