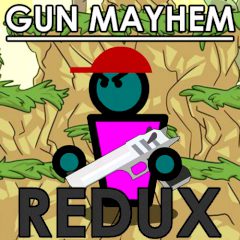 Gun Mayhem Redux is a sequel to the original series that includes new guns and difficult levels. As in the original mission, transform into a top assassin and eliminate all enemies in your path. There is no time to hesitate or think. You have entered this game and must try to survive. With many new levels to help players feel richly rewarded.
Attempt to take down various targets from a safe distance. Also, try to avoid being hit by them when they come from one direction or when they are more difficult to track down. Aside from avoiding opponents, you must also avoid the direction in which weapons or bullets are rushing towards you. But you can also use weapons, bullets, and blades in a creative and amazing way. In Gun Mayhem Redux, you can explore 21 different weapons, each with two different firing modes, and ten different landscapes to learn everything there is to know about strategic gaming. Choosing single player or 4 player mode is up to you. Are you ready?
Tips play
Accumulate experience and technique through different levels of play.
Select intelligent weapons to destroy your opponents.
Earn coins and use them to improve your weapons.
If you're playing in four-player mode, form a team and support each other in all situations.
How to play
Player 1
Arrow keys = move
Z = primary weapon
X = secondary weapon
Player 2
WASD = move
T = primary weapon
Y = secondary weapon
Player 3
Numpad /789 = move
Numpad * = primary weapon
Numpad - = secondary weapon
Player 4
Numpad 5123 = move
Numpad 0 = primary weapon
Numpad . = secondary weapon