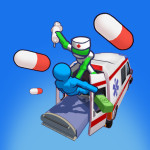 Healing Driver is a simulation game in which players take on the roles of doctors and ambulance drivers. In some circumstances, you must utilize your skills to save your patient from a dangerous position. It is your responsibility to drive an ambulance, transport patients to the hospital, and give essential medical care. First, examine the map to determine where there is an emergency request. Tap to accelerate the ambulance, but remember to brake when you come across an obstruction. The patient should then be placed in an ambulance and transported to the hospital.
When all of the patients arrive at the hospital, they must be placed in beds and cared for according to their symptoms. Providing facilities and medicine to patients in order for them to be as healthy as possible You can use the money you earn to enhance your hospital and recruit additional people to manage it more efficiently. Okay, so let's begin!
How to play
Driving Scene: Press the W / up arrow key / left mouse button to make the ambulance move and release it to stop the ambulance.
Hospital Scene: Use the WASD / arrow keys / drag the left mouse button to move around.