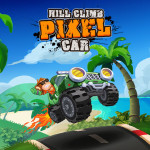 Get ready for the most exciting race ever with Hill Climb Pixel Car! Take control of the monkey, utilize your masterful driving skills to surpass your opponent, and be the first one to reach the finish line! Collect coins on the road to unlock more characters and other super-cool cars! Do you have what it takes to be the winner of every race?
If you love simple driving games, try out Hill Climb Pixel Car and have plenty of fun! In this game, players take on the role of monkeys, who also happen to be racing enthusiasts! Players can take part in two different game modes: Casual and Death-race! Acquire more characters by collecting coins on the road, and get brand new cars such as a bus, a race car, or even a holographic car! Upgrade parts of your car to make your journey much easier and faster!
How to play
To drive forward, hold the D key or the right arrow key.

To brake, hold the A key or the left arrow key.
Related Games