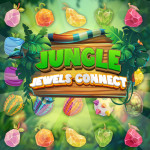 Jungle Jewels Connect is a puzzle game about fruit pairing. The game's purpose is straightforward: remove all fruits from the board. Each level will have a set time limit, so attempt to answer the challenge as quickly as possible.
Jungle Jewels Connect is a challenging game with three levels of play. The game's levels range from the most basic to the most difficult. Remember that you cannot access the medium section until you have completed three levels in the easy area. To unlock the Hard level, the player must finish five levels in the Medium area.
Moreover, utilize the variety of suggestions you have. But the quantity of suggestions is limited, so use them with caution and consideration. In addition, you get five opportunities to reshuffle the pieces, making it easier to locate matching pairs. Attempt to score as many points as possible and become one of the top 10 players. Relax now!
How to play
Use mouse to connect fruit pairs.