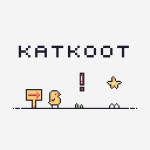 Welcome to Katkoot, a platform game with adorable little chicken graphics. Your mission is to assist a cute chick in overcoming hundreds of hurdles and problems. Along the way, the image of a yellow chicken moves around the location, collecting various useful items. The more challenges you complete, the more points you receive.
You must overcome sharp spikes and cannons. Or there may be riddles along the route that you must solve and overcome. You are about to embark on a perilous and difficult voyage of discovery. What are you going to do to overcome them? Come on, play, and finish the level.
Other games, such as Pacman and T-Rex Dino, can be played alongside platform entertainment games. Now you can unwind!
How to play
Move - Use arrows left, right/A,D
Jump - W, Z, N/Up arrow
Fall - S or Down arrow