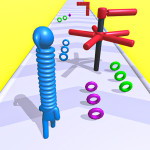 Long Neck Run 3D is an extremely engaging arcade game that features a girl with a special ability: she can grow taller with neck rings! Take control of her and help her get past a series of obstacles; collect the rings of the same color; and see how many famous landmarks she can tower over towards the end of the level!
Long Neck Run 3D features simple yet addictive gameplay. At the beginning of the game, players take control of the green-colored girl and collect all the rings along the way. The more rings she is able to accumulate, the higher she becomes. However, if players take a ring of a different color by mistake, her height will decrease. Avoid all obstacles on your way and see how tall you can get with Long Neck Run 3D!
How to play
Control the girl with the left and right arrow keys or the A and D keys. Players can also drag her with the left mouse button.