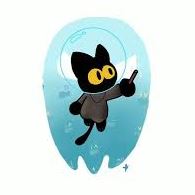 Magic Cat Academy 2 is a well-known installment in the Magic Cat Academy series. Boss Ghost flees and falls into the deep water. Momo must accomplish the assignment in order to eliminate the last spirits. You must kill their army of minions, including Vampire Squid, Immortal Jellyfish, and Anglerfish, in addition to the deadly Boss Ghost.
To defeat the last monster, you must utilize lightning to send Boss Ghost flying into the sky, killing him forever. To destroy the ghosts, use the magic wand and take decisive action. You must complete five distinct levels. Each monster has a unique pattern on its head. Strings with lines, arrows, triangles, or swirls can be used. Draw them with your mouse to make them vanish before the ghosts arrive. Use your magic wand! You only need 5 lives, so don't waste one of them.
5 levels in Magic Cat Academy 2
Level 1: Sunlight Zone: Face off against the Immortal Jellyfish.
Level 2: Twilight Zone: Fight with Boop boops.
Level 3: Midnight Zone: Defeating the Vampire Squad.
Level 4: Abyss: Taking on Angelfish.
Level 5: The Trenches: Meet your ultimate foe: Boss Ghost.
How to play