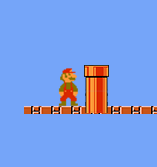 The most well-liked platformer game is the Mario T-Rex Dinosaur Game, which is an offline version of the original T-Rex game. It is necessary for Mario, the plumber who lives in the Mushroom Kingdom, to run, jump, and crouch in order to avoid hazards and foes.
Brick walls, trees, and mushrooms will appear in front of Mario as he advances towards his objective. It is in everyone's best interest to steer clear of obstacles, regardless of how challenging they might appear to be. The objective of the game is to save the princess and the kingdom from being overrun by turtles. You have to run as far as you possibly can, but the challenges get harder with each step because the character is getting faster.
How to play
Use spacebar or up arrow (↑) and down arrow (↓) to move.