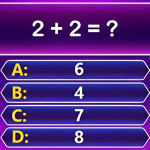 Math Trivia is a puzzle game in the style of Who Wants to Be a Millionaire? Each level contains three problems; if you properly answer all three, you can move on to the next level. Many mathematical puzzles, equations, and questions... The first question may be simple, but the complexity will steadily increase. If you are stuck, you can utilize tips to help you solve the puzzle. Games can help you improve your intelligence and logical reasoning.
To make the game more enjoyable, there are puzzles ranging from simple to complex. If you give an erroneous answer, the game stops, and your score is recorded on the leaderboard. Become the fastest puzzle solver with incredible accomplishments. Because the time available to complete each puzzle is limited, provide the best answer as soon as possible. Let's have some fun and solve some other problems, like 100 Doors Escape Room.
How to play
Click on the correct answer.