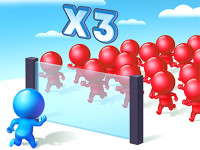 In Mob Control, your objective is to amass a large enough army to defeat your adversaries. It's a fun game where you get to fire cannons to help your blue troops defeat the red ones. Sending a large number of warriors to eliminate the red invaders and reach the castles at the end of the trail is your objective. To maximize the effect and advance through the levels, use the blue gates. Avoiding the red doors will cost you money. How many soldiers are needed to breach the red barriers and take the base is shown by the numbers on the barriers and bases, which are also colored red.
You'll need to do some quick math to figure out which of the multiplier gates will get you the most fighters. Do the math and visit the road's end. Let enemy fighters approach near your gun; a single touch can knock you out. Begin playing!
Feature
Mob Control is vibrant 3D strategy game.
Store and numerous new features.
Amass coins and power blocks.
The game mechanics are straightforward and intuitive.
How to play