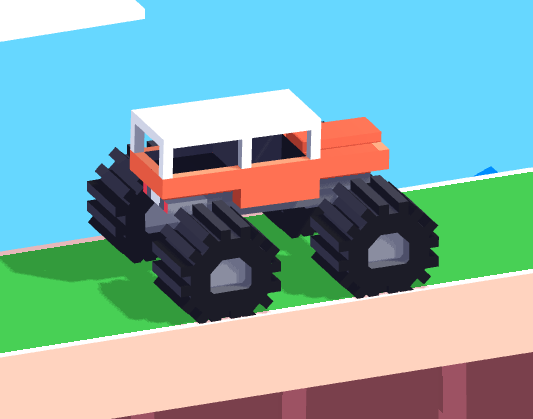 Monster Truck Racing is a fun truck driving game with blocky graphics in which you must complete each level while overcoming various obstacles. Get in your car and race to the finish line while avoiding various obstacles and features. Spline bridges, gravel, logs, cubes, windmills, and special terrains are among the obstacles you must confront and overcome.
Monster Truck Racing feature allows the player to steer the vehicle in a specific direction. If you apply too much force to the monster truck, it will curve backward, especially at first. Slowing down is sometimes a good strategy, but know how to adjust the speed in each case to suit. When the vehicle falls into a body of water, crashes into the ground, or becomes stuck on an obstacle, the game is over. Incorrect acceleration or reverse also causes the car to smoke and explode. If you've played Monster Tracks, then you can't ignore Jeep: Mad Driving and Drive Classic.
Booster
Power: Increase the monster truck's speed and torque. As a result, you can go faster and accelerate faster.
Grip: Better monster truck steering results in less wheel spin and faster acceleration. This is useful in extreme situations or when climbing steep slopes.
Weight: This reduces the car's weight, which aids in maneuverability in the air.
Feature
The game is available for free and can be played anywhere.
Unlock over a hundred different levels.
Finish thousands of challenges.
Collect coins to advance in the game.
How to play
W,S = accelerate and brake.