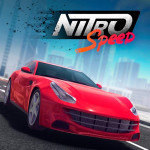 Nitro Speed is a surreal simulation driving sports game. Your mission is to demonstrate your driving abilities by stepping on the gas and driving around every turn. With 24 different automobiles, you can indulge your love of speed from the comfort of your own home. Get in your car and hit the gas pedal to attain top speed. This exhilarating racing game features addictive gameplay, limitless driving, and competitiveness.
You will have a fun driving experience as you navigate the tracks thanks to the simple and flexible steering controls. Use nitro acceleration to achieve amazing speed and the fastest ride possible. You can also drift for points or explore the channel between buildings for hidden cash and other incentives. Prepare to take on the challenge with two modes: free mode and traffic mode. You can also play more Extreme Runway Racing if you enjoy racing games.
How to play
Use WASD or the arrows to drive.