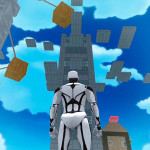 Only Up: Parkour Simulator is a fun simulation game with breathtaking parkour action. Climb to the top and look down over the entire city. Face the problems ahead with courage. This is a game that involves talent and quick responses from the player. Jump onto things floating in the air without colliding with anything. Observe carefully before acting since there may be a trap ahead or you could fall into the abyss below with just one false move. Your ultimate goal is to reach the highest conceivable summit.
Each of your motions must be accurate in order for you to progress. If you fail the first time, try again, because the more you practice, the better your talents will get. To everyone's surprise, you can accomplish challenging parkour movements. Let's play Only Up: Parkour Simulator and have some fun!
Additionally, if you enjoy parkour action games, you can play Always Only Up!.
How to play
WASD/ Arrow - Move
Space - Jump
Mouse - Camera rotation
Shift - Slow down
Space - Jump