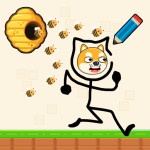 In Protect My Dog, it's time to save adorable canines from a bee onslaught. This is a fun puzzle game with difficult questions. Your mission is to build fences to defend the dog from bee attacks. To do so, you must first draw a protection line around your dog. Besides from the hazards posed by the beehive, the dog could potentially tumble into the sea, be pierced by thorns, or fall into hot lava.
You will win and advance to the next level if the fence you draw can protect the dog for 10 seconds. If you fail, you must try again! The higher the level, the more difficult questions Protect My Dog poses to players. Can you accomplish the challenge with only one drawing line? Let's also play Protect My Dog 2.
Feature
There are about 40 different levels of play.
The ability to train your brain and solve problems.
Controls that are intuitive and simple to use.
When you are stuck, you can view advertisements to help you get through the level faster.
How to play
Drag the mouse to draw lines that protect your dog.