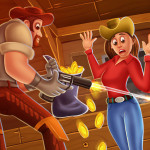 There are 3D visuals and exciting action sequences in the first-person shooter Saloon Robbery. The game takes place in a saloon during the Old West, and your job is to maintain order. Several armed gangs intend to terrify the populace and steal from several businesses and homes. You'll need lightning reflexes and a steady hand with the gun if you want to halt the bar heist.
Constant robberies by renegade gangs. They can use regular citizens as hostages or launch relentless bar crawls. Maintain a state of constant battle readiness. Learn to pick off your foes one by one by keeping a close eye on them from every direction. As a seasoned marksman, you know that the more points you rack up, the more of those points are a direct result of your skill. To gain additional ammunition and lives, click the hearts that randomly appear. Don't let it get to the point when you lose three lives and the game. Now is the time to begin. You can play even more Skibidi Laboratory if you enjoy engaging shooters.
How to play
Use the mouse to aim and shoot. Collect bonuses, ammo and hearts.