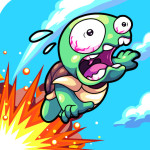 Use the Shoot the Turtle game as target practice. Sea turtles have their own exciting experience here. You'll need to guide the turtle over a great distance while making strategic use of the rifle. You need to plan ahead, then place the turtle within the rifle barrel and fire it into the air. Collisions with other animals are necessary for turtles to gain enough speed for flight. The farther the turtle travels, the more points you will receive. If you save up your coins, you can buy better weapons and armor, making you much more powerful.
Aiming precisely will help the turtle travel the farthest. When in flight, turtles may crash into bills, other animals, or anything else. The hit will result in a small explosion and send the turtle hurtling forward at a high rate of speed. Do you feel game?
How to play
Use mouse to view and shot.