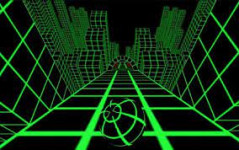 Slope Unblocked is an arcade game where you move a ball along a path that never ends. The blue border has a black tone that stands out. You must help a green ball roll down a slope. Each level you finish gives you one point.
As the ball goes through tunnels or up ramps, the player pushes it forward faster. The further you get in the game, the harder it is to control the ball and the more obstacles you will face. You have to get past these obstacles, like steep slopes and red cubes. Don't let yourself fall. Keep your feet on the ground. When you play this game, you will have so much fun! Start right away.
How to play
Use arrows to control the ball.