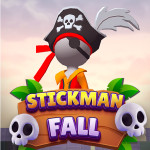 In Stickman Fall, you play as the stickman guy in an action-packed adventure. Pirates are shown here forcing the stickman guy into the ring. You need to assist him in completing the mission and landing safely if you intend to stay alive. Two piston columns hold Stickman in midair. To slowly fall to a safe area, you must use a stick with a suction cup. If you collide with the tonic linked to the two pillars, everything explodes, and you must restart. If you descend too quickly and do not have time to stop in a safe location, you will end up in the hands of pirates. Other traps set by pirates exist. It is prudent to avoid them.
You have three chances to play and complete each level. If you want to advance to the next level, you should finish the mission as quickly and safely as possible. The gameplay and story in Stickman Fall are both enjoyable. Is your courage up to the task of beginning this difficult trip?
Dinosaur Game
offers a wide variety of fun games, such as
Stickman Ghost Online
, that are worth your time.
How to play
Space/ Left mouse click - Attach to the bar
Descend while avoiding obstacles
Upon reaching the finish, stop within the marked area