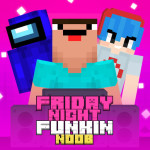 Enjoy the music in Super Friday Night Funkin Vs Noobs. This is an entertaining game that features Minecraft characters. Here, you must demonstrate your musical abilities by sensing and expressing melodic sounds. Complete the music without missing any notes. To do so, watch the movement of each arrow and press it at the appropriate time. If you have more tunes than the specified number, the game will end and you will have to start over.
Don't worry! Each level has songs with simple melodies to play. To win and advance to the next level, you simply need to demonstrate your musical ability. The difficulty will increase at the following levels, making it a greater challenge for you. Tap the buttons at the appropriate times to earn the highest score and complete the level. Try to get the highest possible score! You can also play games that are similar to Super Friday Squid Challenge.
How to play
Use the arrows and keyboard to move.