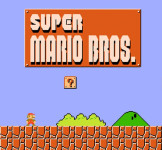 Super Mario Bros is a classic retro video game with pixel graphics and engaging gameplay. You must transform into Mario to travel through the Mushroom Kingdom. To reach the flagpoles, you must jump over pillars to overcome obstacles. You will need to collect coins scattered along the path. There are special bricks marked with question marks and bricks that contain many coins.
Picture of Mario overcoming obstacles and jumping. When Mario collects a mushroom, he becomes Super Mario. He can double his size and possibly break bricks. Jump on the heads of enemies to defeat them. Discover different castles and explore new worlds. There are 32 challenging levels to choose from.
You can play Pac Xon if you enjoy retro games. You can also play similar platform games.
How to play
Use arrows/WASD to move
Use Shift/CTRL to Shoot/Sprint
Use P to pause
M to mute