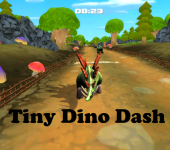 Get ready for the most prehistoric race ever with Tiny Dino Dash! In this game, our athletes are dinosaurs, and they all can run very fast! Make use of the speed boosters and try your best to be the first to reach the finish line!
Tiny Dino Dash puts players in the role of dinosaurs in an exciting race. Players can choose between online multiplayer or running against the CPU in Local mode. Pick one of the four dinosaurs: Stegosaurus, Ankylosaurus, Parasaurolophus, and Brachiosaurus. During the race, there are multiple obstacles that you will need to jump through. Collect the speed booster and use it to run faster than any other dinosaur!
Related Games
Explore more cool games available on our website:
How to play
Control the dinosaur with the A and D or left and right arrow keys.

To speed up, hold the W or the up arrow key.

Press the spacebar to jump past obstacles.

Restart the level with the R key.

Pause the game with the P key.