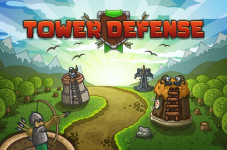 In the action game Tower Defense, you have to fight against enemies, monsters, and aliens. You can build a system of defenses to protect your castle. Tower defense games are fun and easy to get hooked on. You'll get a lot of upgrades most of the time. It stands out from other games because it has both tower defense and fun animation.
Don't let any of them get to your base. To win, you need to plan your resources carefully and think strategically. Set up towers to defend yourself, and fight your way through waves of enemies.
In this game, the most important thing is how you use your time and resources to beat your opponent and win. Tower defense games can be hard to learn. But don't worry about practicing a lot to get good at it.
How to play
Use the mouse to play the game.