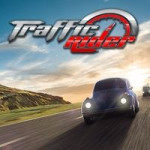 In Traffic Rider, you must master the steering wheel and travel as far as possible. You ride a motorcycle in severe traffic while attempting to reach the finish line. Take a seat on a motorcycle and witness the exhilarating action. Manage the vehicle without colliding with other motorists. Drive in first-person and complete several stages. There are a variety of motorcycles that you must unlock. Enjoy enhanced visuals and authentically captured bike sounds. In addition, you can play more Rally Racer. Relax!
Feature
Strive to attain 100 kilometers per hour and run quickly on the track.
There are numerous vehicle types with distinct colors and patterns. Unlock additional vehicles using coins.
Realistic visuals and sounds, the ability to feel the bike, horn, and music.
Ability to alter your motorcycle's color.
How to play
To move about, press the WASD keys.