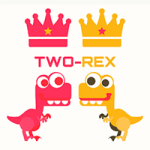 Have you ever attempted an offline game featuring dinosaurs? Two Rex is a fun one-button distance game for two players that you can play for free online.
The small dinosaurs are the main protagonists in this new two-player adventure game. As you will see, dear companions, they are prepared to leap over any obstacle they come across. Running as far as possible is the objective of this two-player game; it is a competition between players 1 and 2, and you must exert considerable effort to earn points and achieve the highest score. You will need to be exceptionally quick, as the two dinosaurs must advance in a straight line for the entire distance.
Good luck!
How to play
Use the A and L keys to play.