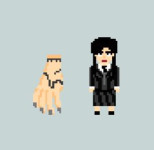 Wednesday Addams is a game based on the film Wednesday and the video game Dinosaur Game. Wednesday is attempting to prevent a spate of murders in the neighborhood where her school is located. Here, your task is to transform into Wednesday with your friend Thing and overcome obstacles along the way. You must run and continually leap over the obstacles that occur on the route, using the same gameplay technique as Dinosaur Google Chrome.
Wednesday in the game still retains the gothic fashion style with her friend, Thing, who always appears next to her. How far can you go? Find a way to overcome Bianca Barclay, the academy's principal, or face monsters,... You must dodge everyone and anything you encounter along the way. You must quickly bend over if birds appear. Finally, attempt to achieve an unexpectedly high score!
How to play
Use the space bar, left mouse button, and up arrow to jump.
Down arrow to crouch.