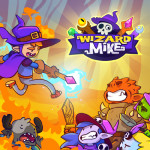 Do you aspire to be a witch? Wizard Mike allows you to take on the role of a wizard and study magic. To triumph over your foes, you'll need to figure out a lot of puzzles. Over 200 visually spectacular levels require all your brainpower and strategy to complete.
When you begin a level, you will come across many platforms. You can get rid of the creatures by casting a spell at them. Pay close attention to your environment and the positioning of your adversaries so that you can devise a strategy for destroying them with a single well-cast spell. You can progress through the levels by using explosives, marble columns, and other objects. Put an end to your foes right this second!
Other games, such as Idle Island Build And Survive and Panda Legend, are also available. Do you feel ready?
How to play