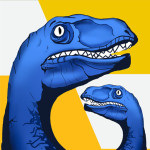 Try to conquer the world in the game Dino: Merge And Fight. The prehistoric setting features numerous large animals, including dinosaurs, that will take you back in time. Create a force of your own and lead it into battle against the adversary. The powerful army works together as one to subdue the formidable dinosaurs. You can boost your chances of winning by consolidating comparable units into larger, more powerful ones.
When you have amassed a sufficient force, you may send them into combat. In battle, you can call down fire from the heavens by summoning a meteor. With the money you've earned, you can purchase dinosaur or caveman units, merge two of them to become a stronger unit, and so on. Winning will be much simpler if your force is strong enough. You may play even more Merge To Battle if you enjoyed Dino: Merge and Fight.
How to play
Use mouse or touch screen to play.