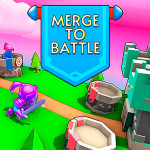 Merge To Battle is a thrilling battle-merge adventure game. Your mission is to use the warriors to retake the enemy-occupied castles. Act quickly to combine warriors to form formidable warriors and prepare to face the enemy on the battlefield. If you do not act immediately, the enemy will charge at you. This poses significant risks.
To win, you must employ an action strategy that includes soldiers and archers. To be successful on all fronts, your army must be united and well-coordinated. At the same time, don't forget to create and upgrade your castle and troops, as well as equip armor with increased protection. Upgrade your castle to get stronger defenses and better skills. Lead your army to victory over all opponents and tremendous accomplishments.
Other merge games, such as Merge Blast, can also be used as examples.
How to play
Use the left mouse button to unite forces, then send your army to the battlefield.