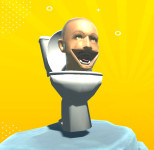 Fall Boys Skibidi Toilet is a fun game that blends the Skibidi and Fall Guys series. Your mission is to guide the Skibidi toilet through a series of obstacles to its objective. How many levels can you get through?
Feel the thrill of competing against a large number of people. Instead of the delightful pea, you must now support the Skibidi toilet. You can advance to the next level after you reach the podium. Prepare to compete against time and a slew of other opponents. Move rapidly to get around movable obstacles. Examine all of the paths and take the shortest one. It is not tough to win if a clear approach is followed. Be objective with other players; they are all direct competitors. 3D graphics and dynamic noises will enhance your experience.
If you enjoy Skibidi themed games, you can also enjoy more Skibidi Toilet Rampage. Begin playing right away!
How to play
Use mouse and touch screen to play.