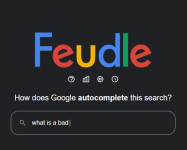 Feudle is a Google games list word game. Google's algorithms will offer questions to help gamers identify the correct term. You must correctly guess the last word with no more than six attempts. The rules of the game are identical to those of the well-known game Wordle. The colour of the cells indicates whether or not the letter is correct. Green indicates that the letter you predicted is in the correct position in the missing word, whereas blue shows that the letter is in the word but in the incorrect position. The letter grey is the one that does not appear in the search term.
This game is also excellent for brain training and vocabulary development. Can you figure out the hidden word with only six guesses? In fact, after a few attempts, you will understand the gameplay and its regulations. Google provides you with a hint, which you must then finish. You can play Wordle Peaks in addition to word games.
How to play
Guess the word after 6 tries.
The colour of the crosswords gives you hints about the word to look for.