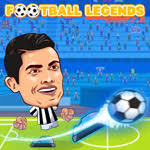 Prepare to kick off the football season in Football Legends. Your objective is to win and become the next football legend. Run, jump, and shoot the ball into the goal accurately from the first kick. Don't forget to defend when attacking. Select your favorite team and use your special abilities to score as many goals as you can. Try to guide your team and head to win after the goals. When the time is up in football matches, whoever scores the most goals wins the game.
If you enjoy soccer games, you can also play Soccer Random and Soccer Caps League. Enjoy these wonderful moments of relaxation!
Feature
Simple and fun sports game.
Use your abilities to defeat AI technology and earn points.
Graphics that are both interesting and amusing.
The music is lively and playful.
How to play
1 Player:
Move: ARROW KEYS or WASD
Shot: X or L
Supershot: Z or K
2 Players:
Player 1:
Move: WASD
Shot: B
Supershot: V
Player 2:
Move: ARROW KEYS
Shot: L
Supershot: K