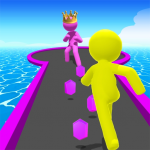 In the action game Giant Rush, you play as a 3D stickman who must navigate their way through various obstacles in the ocean. The action game consists of battling various monsters and defeating them. Get on board the train, and try to make it through the maze as quickly as possible. In order to defeat enormous monsters, you will combine blobs with your own strength.
Fight your way through brawl game battles using swords to vanquish colossal monsters, avoid their attacks, and come out on top. If you choose a winning tactic, your stickman warrior will emerge victorious from the epic conflict.
Construct and improve your blob hero, overcome all challenges, and emerge victorious in an epic conflict against The Giant Kings. Take control of your stickman figure and combine blobs in order to make yourself more powerful for the medieval combat.
Are you prepared to go? Let's try out some brand-new games like Smash Karts or Pacman!
Feature
Choose the path with the most potential danger.
Get there as quickly as you can.
We need to improve our strength in order to win against the Giants.
The conflict with the monstrosities in the world.
How to play
To start running, press and hold the LEFT MUTE BUTTON.
You can navigate the environment by moving the cursor to the left and right.