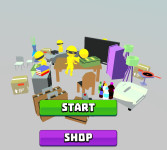 Grand Snatch is a clicker game with funny stages for players to complete. Turn yourself into a thief and break into large offices to take everything. With simple actions, you must steal as soon as possible with your troops. You can only act with a few members at first, but after successfully stealing a few goods, your money will continue to grow. You can use that money to expand the number of thieves in your group. Following that, you can boost your acceleration while also increasing your income.
You will now be in charge of a gang of brave robbers. Suddenly, they broke into all offices and homes, stealing anything valuable. From there, increase the amount of money you have quickly. To be able to act faster, constantly upgrade your minions with new skills. Pay close attention to the following upgrading features: hire new minions, boost their speed, and optimize your earnings from selling stolen products. Use your money wisely and maximize your labor efficiency to achieve the highest possible score.
If you enjoy idle clicker games, you can also enjoy Cookie Clicker. Now you can unwind!
How to play