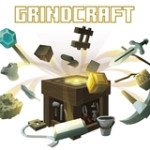 GrindCraft is a game based on the popular video game Minecraft. This is a game in which the goal is to produce wood, collect various types of items such as stone, wood, or gold, and organize your resources in order to craft a wide variety of items. Make plans to improve the efficiency of your work. Consider creating more advanced structures and better and stronger weapons. You can also hire the first villagers to help you get things done faster.
Have you considered the project you are about to embark on? Make enough different resources, and you can start your own civilization. Combine materials to make a wide variety of Minecraft materials, tools, and structures. GrindCraft is a passive game that requires perseverance and creativity. Relax now!
Featured
Harvest resources: Begin with the smallest actions to cut down trees and collect wood.
When you have enough wood, you can start making better tools like axes and spades to make resource gathering easier.
Start building your civilization once you have enough resources. Unlock the inhabitants to help you with mining and crafting.
Explore other worlds, unlocking new materials and discovering tools, monsters, and populations before using your weapons to fight and slay the dragon.
How to play