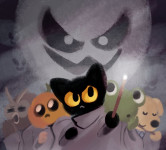 Halloween 2020 - Magic Cat Academy 2 is a Halloween game on Google Games. In this game, you play as Momo, a cat who must save her magic school from evil spirits who want to take it over. Set underwater, with largely black-and-white images. Many diverse aquatic species have been transformed into Ghosts.
To stop the ghosts from approaching you, you must draw symbols. If the ghosts approach you, you will perish. To complete all four stages, you have five lives. A ghost monster will appear at the end of each stage in the shape of a vampire squid or a fishing fish. To advance to the next level, you must defeat them. Now you can unwind!
Similar games
There are many similar games that you can play and relax like:
How to play
Use the left mouse button to draw symbols to destroy the ghosts.