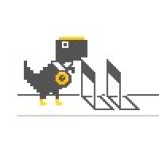 Hurdling Olympics is a Dinosaur Game that was created to commemorate the Summer Olympics. Here, your character Dino can overcome obstacles and avoid them. The T-rex dinosaur still sprints around the desert and must avoid obstacles, despite the simplistic pixel style. When you come across a torch, though, you can collect it and begin your quest to compete in the Olympic hurdles. If you wish to play like the original, avoid the torch when it appears on the track.
When competing in hurdles, Dino will be able to change and add accessories or costumes to meet the subject. Hurdling Olympics provides gamers with an entirely new experience. Run fast and aim for a medal. How far can you go?
Other sports:
Try more sports in the Olympics and have a relaxing time!
How to play
Click on the play screen to start the game. Then use the Space key or the up arrow to control the dinosaur to jump over the obstacles.